Rockaway
By our Rio de Dinero (Rio Grande) X Elounda Bay xx
Winter 2015/16: We are looking forward to continuing to bring along the youngsters. They are all going great and won ribbons at HITS-Ocala! We have Rockaway 17.1hh (Rio de Dinero x Galoubet), Chablu 15.3hh (Chacco Blue X Joy/Jupiter), Gigi 16.2hh (Golan X Dutch Vivacious xx), and Izabelle 16.2hh (Zarr X Fleur de Lis). We have a great team of riders.
Chablu by Chacco Blue out of Joy (Jupiter)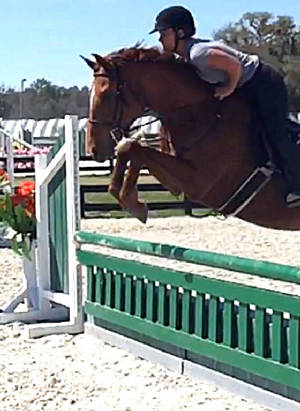 Spring/Summer 2015: It has been very busy here at GHF. We have been focusing on bringing Rockaway (Rio de Dinero X Galoubet) and Chablu (Chacco Blue X Joy (Jupiter) along and Gigi (Golan X He's Vivacious) went to her first Dressage show in June and did very well.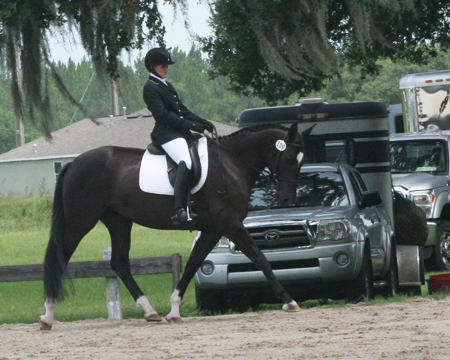 Gigi ridden by Chelsey Miller.
Winter 2015: Time to catch up on the latest news at GHF. Gigi is in training with Don Sheehan. Zander by Zirocco Blue has been sold to Don Stewart who recently sold our other very special baby out of Joy - Rio Mio. And Dino is ready to go over to HITS and show in the Pregreens! We also now have a 19hh Belgian that came to us from a kill pen in PA. "Saint Nick" is amazing and is earning his keep as a baby sitter.
September 2014: Wow - there has been a lot going on at GHF! Zander (Zirocco Blue VDL X Joy/Jupiter) has returned home as a 3 year old to be started and is WTC-ing undersaddle. This boy is NICE! He is for sale to the right home. Great mover and very athletic and kind. Metro (Mezcalero X Noble Nellie) will be going to a great new home outside of Boston (and close to his dam Noble Nellie). Rockaway and Chablu went on a field trip and were shown at their first over fences show. Both were great! Champion and Reserve! We are looking forward to more shows with them. And Dino will be going back to work next month preparing for the pregreens this winter.
Metro and his new owner!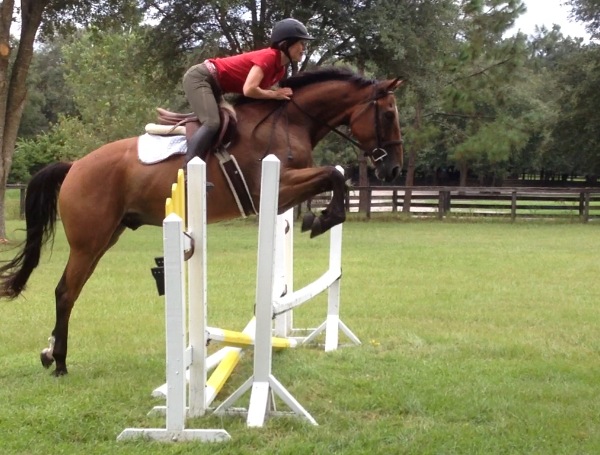 Summer 2014: It is a great and busy summer! Rio Mio (Rio Grande X Joy/Jupiter) has been doing very well in the Large Juniors. Gracious (Golan X Dutch Vivacious) is proving herself in both the hunter and jumper rings! And West Meadow (Westporte X Joy) has been earning top ribbons in the Pre Greens and Adults. Congratulations to the owners!
Randy Eekhout of Ramapo Ventures has been helping us bring the youngsters (Metro, Rockaway, Chablu and GiGi) along. They are going great!
West Meadow winning in the Adult Hunters!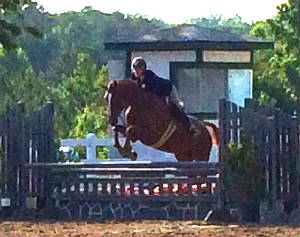 Four year old Rockaway ridden by Randy Eekhout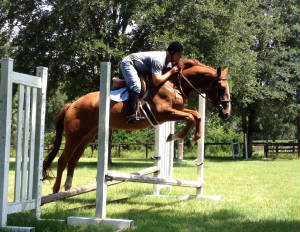 By Rio de Dinero (Rio Grande) X Citroen/Galoubet
Spring 2014: It has been an exciting Spring! Dino was shown at RMI - Ocala and won a bunch of top prizes and was Champion. The four year olds, Chablu, Metro and Rockaway are gearing up to go back into work and start going to local shows. And Rio Mio earned excellent prizes this Winter at WEF in the Junior Hunters and Adult Hunters.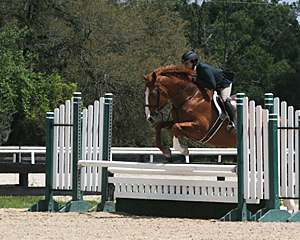 February 2014: Gigi (Golan X Dutch Vivacious) and Chablu (Chacco Blue X Joy) did great with Don and Paige their first outing to HITS, Ocala. Thank you! And West Meadow (Westporte X Joy) continues to make her way in the Pregreens at HITS.
West Meadow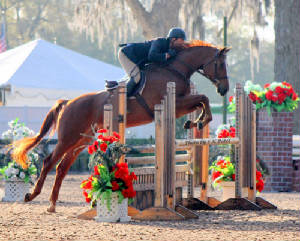 December 2013 - January 2014: Rio Mio was Reserve Champion in the Children's Working Hunters in Wellington at the ESP Holiday and Horses Show. And his BFF growing up, BBG (show name Benevolence) won good ribbons at Jacksonville and won the Southeast Medal! Yay boys! Congratulations to their owners!
BBG aka Benevolence winning Medal.
September 2013: We brought Metro and Chablu to the YHS at Cav-i Farm. They both were great - very relaxed and a pleasure to handle and ride. Thank you Candy - you are always a great host.
Metro at YHS with Taylor Coombe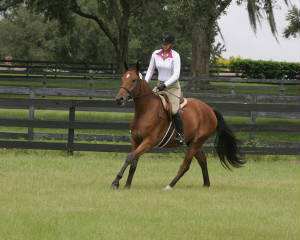 August 2013: Wow - August has really whizzed by! And the three year olds and Gigi and Izzy are going great. They will be going on some field trips in September.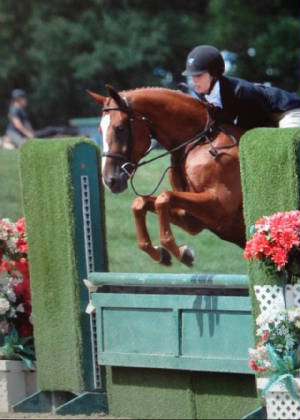 Rio Mio and Molly DiNapoli Saugerties, NY
July 29th-31st, 2013: Rio Mio and Molly DiNapoli did very well at the National Junior Hunter Championships in Saugerties, NY. They were 5th in the Handy, 6th in the Classic and finished 6th overall in a large and very competitive field. Congratulations!
June/July 2013: Busy! Busy! The three year olds are doing very well with their training. They are now WTC-ing undersaddle. Thank you Shane!
Rio Mio is continuing to do very well with his rider Molly DiNapoli. He was 4th in the Atlanta Derby, and Molly was the only Junior in the top 12. Mio was also Res Champion in Raleigh in the Large Juniors, winning an over fences class and the Maclay!
West Meadow is learning her job in the pregreens. She won a class at HITS Culpeper!
And Gracious (Golan X Dutch Vivacious) went to her first jumper show and was Champion as well as winning the Classic!
Rio Mio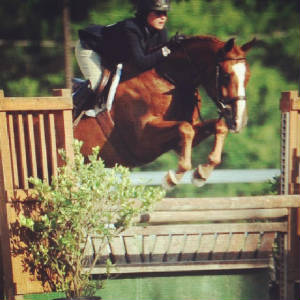 Spring 2013: What a fun Spring! Rio Mio won great ribbons at RMI - Ocala, including a first and second in the Large Junior Hunters, 15 and Under. He rose to the occasion and was 2nd in the large and very competitive Junior/AO Hunter Classic. Ridden by Molly Dinapoli and trained by Don Stewart and Bibby Farmer. We are also very excited to see the progress of our 2010 babies, Chablu (Chacco Blue X Jupiter), Metro (Mezcalero X Noble Champion) and Rockaway (Rio de Dinero X Galoubet) as they begin their undersaddle training.









April 2013:

Congratulations to the owner of Rio Mio, he was Res. Champion of the Junior Working Hunter division at the Tampa Equestrian Festival (Mio was second in all of his over fences classes.) as well as being Res. Champion at WEF 11 winning the Handy!
Winter 2013: Things have been busy here at Gift Hill Farm. Gigi (GOLAN X Dutch Vivacious) has been started and is going very well undersaddle. She is black, 16.2hh with a very amateur friendly temperament, as well as being a good mover and very comfortable. My dear Izabelle (Zarr X Fleur de Lis) is going great, she is a nice mover and very scopey. We are also enjoying seeing 2009 West Meadow (Westporte X Joy) and Dom Perignon (Don Alfredo X Galoubet) schooling and showing at HITS - Ocala.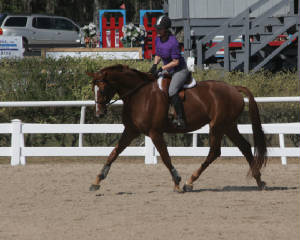 West Meadow schooling at HITS - Ocala
September 2012: It has been a busy summer here in Ocala! 2008 Izabelle (Zarr X Fleur de Lis) is going well under saddle and will begin her show career in 2013. 2009 Razzle (Rio de Dinero X Fleur de Lis) and Gigi (GOLAN X Dutch Vivacious) are being started under saddle. And Rio D'Oro aka Felix went to the Oldenburg inspection and received excellent comments.
Felix!






June 2012:

We are very excited to announce the arrival of Rio D'Oro aka Felix. He is by our Rio Grande son Rio de Dinero and out of our fantastic mare Joyeux (Jupiter). Felix has been purchased as a stallion prospect and will be staying at GHF to grow up. Congratulations to his owners!
Rio D'Oro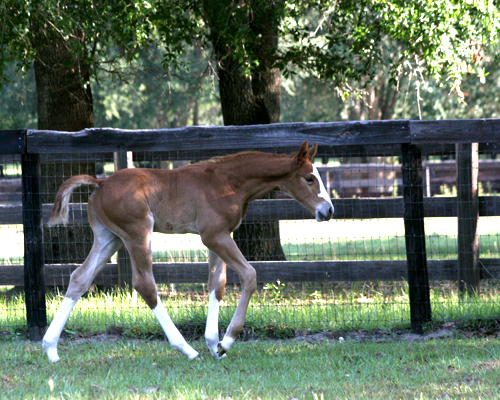 Nasdaq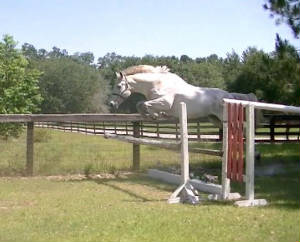 May 2012: Nasdaq had been sold to a great home in Michigan and Rio Mio has qualified for Devon in the First Years.
April 2012:
Rio Mio was res Champion at Brownland in the First Years.
And our Rio Grande son, Rio de Dinero aka Dino was Champion at his first show. He won the hack and three over fences classes. Huge thank you to trainer Sandy Lobel and rider Megan Edrick. And thank you to everyone who has had a part in bringing Dino to this point.