Some horses are never forgotten......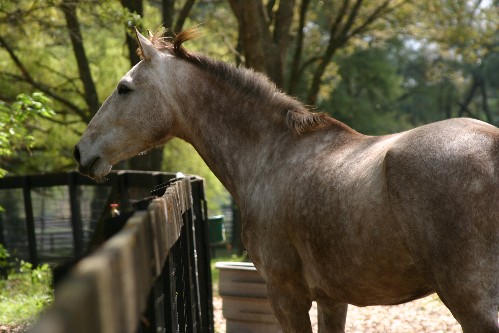 .....some heartbreaks never heal.
April 5th, 2000 - December 2nd, 2004

And now I'm glad I didn't know
The way it all would end...the way it all would go
Our lives are better left to chance...I could have missed the pain
But I'd of had to miss the dance
-The Dance by Garth Brooks

 We want you to know how cool Bub was....in case you didn't know already.

Bub was adopted at 6 weeks of age and we loved him from the day we met him. He was a nursemare's foal, and was born in KY. We bucket fed Bub around the clock and turned him out with our other foal (Ravello) and his dam.

Bub and Ravello were the best of friends. They grew up together and moved with us from VA to FL. They didn't mind, they were together.

To know Bubba was to love him or at least laugh at his silly antics.

Bub always came running to the gate, ears pricked, when we called him.

As a four year old Bubba blossomed. He was no longer a gangly colt, he was big and just lovely.

We always knew Bubba would be a star.....we just didn't know it would be in heaven.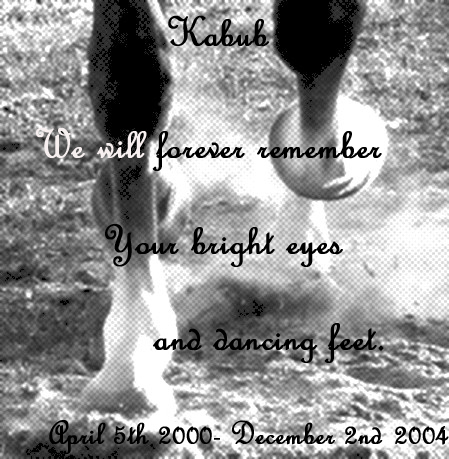 Don't cry for the horses that life has set free,
a million white horses forever to be.
Don't cry for the horses now in God's hand,
as they dance and they prance in a heavenly band.

They were ours as a gift, but never to keep.
As they close their eyes forever to sleep,
their spirits unbound, on silver wings they fly,
a million white horses against the blue sky.

Look up into heaven, you'll see them above,
the horses we lost, the horses we loved.
Manes and tails flowing, they gallop through time.
They were never yours - they were never mine.

Don't cry for the horses, they'll be back someday
when our time is gone, they'll show us the way.
Do you hear that soft nicker? Close to your ear?
Don't cry for the horses, love the ones that are here.